Click here to tune in.…. OR subscribe to my podcast on itunes.
If you love it…please leave me a review!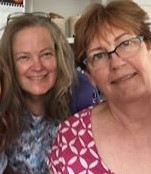 Karen and I talk about being fiber artists. We are both city girls who turned into fiber farmers. We talk about our journey from city girl to farmHer. And we talk about making farm yarn from our fleeces.