Joy is not the same as happiness. Joy is in the small moments. It is in the smell of cinnamon almonds and kettle corn. It is in the turning of the fall leaves.  It is in the light playing off the Potomac as you are crossing over it.  It is in the feel of a great yarn like our Zephyrette. It is in the feeling you get when you start a new project OR when you finish one. It is in the sound of the trick-or-treaters at your door, the cute ones, not the teenagers (LOL). It is a feeling of connection with other people and with nature. It is the feeling that all is right in your world, right now.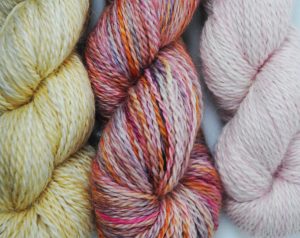 These last few weeks, I wrote about overcoming overwhelm at these shows.  I realized just recently, that I need to regain my joy at fiber shows. And I am writing today because I have come to understand that maybe you need to find that joy as well.  If you want an additional help for defeating overwhelm, I made an organizer for you that you can get here.  And while I don't know if I have all the answers for finding joy instead of overwhelm, I think this is a start.
Before I was a vendor, I would go to these shows as a buyer and a looky-loo and a participant. And it is true that there are a lot of people and a lot of activities and a lot of things to buy. There are things to eat and drink and there are animals and fleeces, too.  There is a lot.
Now that I am a seller at these shows, my perspective is a little different.  There is all of that still and there is my color work that I have up on my wall for you to look at and hopefully to take home with you.  But, I think today I will peel back the curtain and let you know that I have felt myself losing the joy at shows. You know that's hard to write, because I love what I do. I love to make beautiful color combinations. I love packing up the yarn and roving and putting it up on the grid wall. I love to have you look at what I've been making for you. But I feel my joy starts to dissipate as I respond to people telling me that they are overwhelmed or that they just got here and have to look around first or that they are on a fiber diet. I start to take on those feelings too.
My message to you today is this: when you are feeling stressed and overwhelmed at a show, stop and take a moment.  Maybe go outside and sit for a minute. Maybe go into that empty booth instead of the one with the line and take a moment to appreciate the work that artist has done. Even if it isn't anything you want or need, that person has brought it there for you to admire.
I'm asking you to do something not only for me but for all the other artists at the show. Just tell us something good. Tell us that you love our colors. Tell us that you appreciate what we are doing. Tell us that you love that shawl. That kind of interaction will build us up.
And I promise to you that I will do the same. I will complement your sweater or shawl. I will appreciate the colors you put together. Together we can spread that joy throughout the show. We, artists, don't expect you to buy something at everyone's booth. Of course, I hope you will find something that you love in my booth. But don't make an excuse, just say thank you.
And what about that family that is walking too slowly or that person who just stopped dead in her tracks? Spread the joy with them too. Complement them, don't get angry. It's supposed to be a fun day not a stressful one. Say a kind word to that person or admire their hat or sweater or shawl that they have made.  Feel that connection to the artists, fiber farmers and creatives who are out for a day of joy at the fiber festival. And of course, come by our booth and say Hi! It will be one of the joys in my day!