I hear all the time from people who can't think about knitting in the summer time. Have you heard this too?  Maybe it's just me and maybe it's just my job, but I knit when it's cold and I knit when it's hot. But I don't knit outside, in fact I don't do much outside in the summers of Maryland. It's been really hot and muggy here during summertime. It is hard to breathe when you're outside. And there are gnats and mosquitoes. Sounds great right?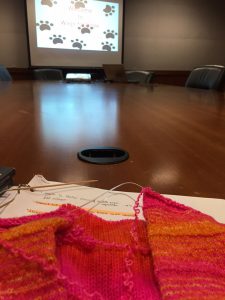 Instead I stay inside and I will watch a movie or binge watch a TV series. And I find other places out in the "wild" where I can knit. The local coffee bar, my library branch, at the doctor's or vet's offices, at a restaurant. So even if you don't have air conditioning, there are places you can go to get a little knitting done.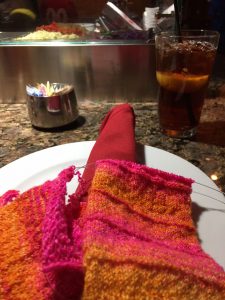 Why? Because my good friend Ellen once told me her secret to high knitting production and this is it: Knit a little bit every day. Knit for 10 minutes. Knit while you're in line at the MVA. Knit during a staff meeting. If you knit a little every day, you will be finished with your sock, hat or sweater rather soon. If your project just sits in your knitting bag or your yarn bowl, it isn't getting finished.
So in the past few weeks, I've been out knitting in public, mostly at the vet office because Chester is having chemotherapy.  I have had some great conversations with people because I had my knitting out.  People are curious and people have questions or reminiscences about their grammy or aunty.  I know that sometimes this can be annoying….I just want to knit in peace. It also brings up a feeling of community.  That has been a bright ray in the midst of an otherwise dreadful day.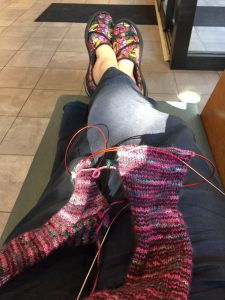 So my advice to you is to go out and knit in public, even if it isn't the official knit in public day. You will get make more progress on your projects and maybe you'll have a good conversation with someone new.  Let me know where you are knitting and how it's going!