I've been making wool dryer balls in my spare time. Why? Well, I have some roving that is not great for spinning or felting. I need all my wool to do something on the farm. This is what allows us to be sustainable. All or nearly all wool and mohair is used to make something here.
Why use dryer balls? Well according to the Environmental Working Group, dryer sheets and fabric softeners damage your clothing and they also damage your health. The chemicals in these products contain chemicals known to cause cancer, irritate your skin, and cause reproductive issues. Also when dryer sheets are heated, these chemicals become airborne and can affect your lungs and exasperate asthma. These chemicals are know collectively as Quaternary Ammonium Compounds or QACS. These chemicals make your towels less absorbent. I've surely experienced that. They will also wear down the ability of your clothing to wick away moisture in socks or athletic wear. QACS stay on your fabrics for quite a while and they slowly seep out over time between washings. And as they seep they are affecting you, your family and all the fabrics in your house. Also what happens to the "used" sheet? It goes to the landfill. There are still those chemicals in the sheet. And the contents of our landfills can contaminate ground water and other water sources. Just think about all the loads of laundry in all the houses in your neighborhood or city or state, that's a lot of these QACS in the environment.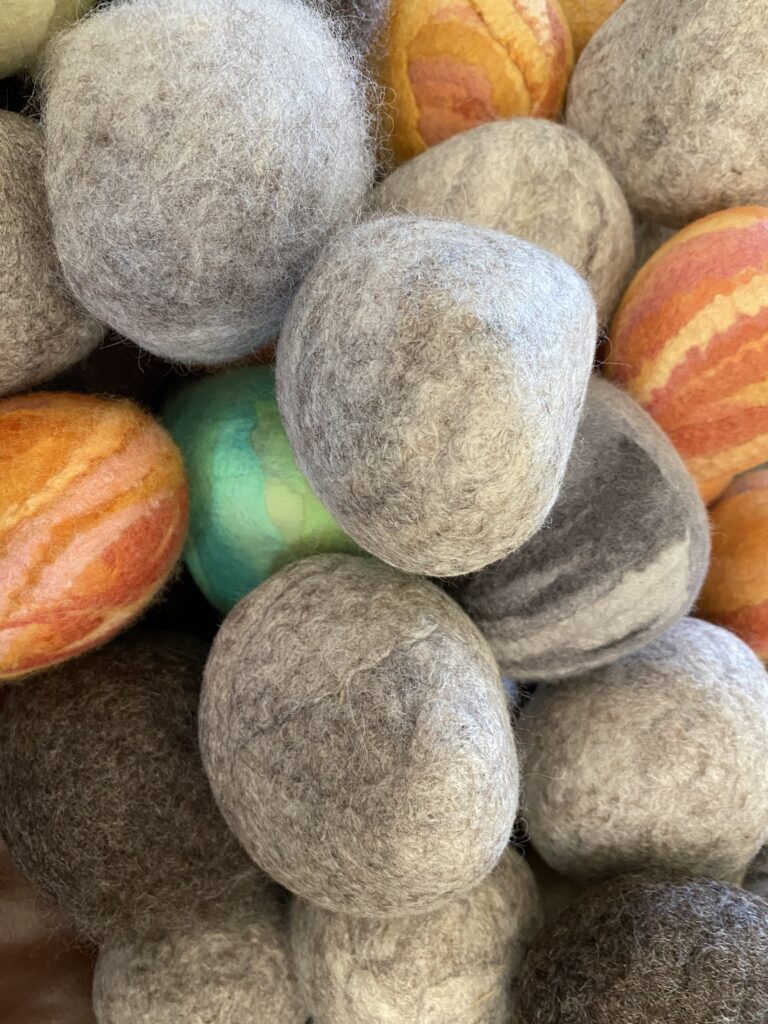 Dryer balls are completely natural. Mine are made of 100% wool. Wool is great at wicking away moisture. It is antimicrobial as well. They work by bouncing around in your dryer. They lift and aerate your laundry. They help the heat to disperse within your load and thereby reduce your drying time. Because they reduce the heat in your dryer, they also reduce the static cling. Static builds up with more and longer heat in the dryer. They contain no chemicals, just wool, pure wool.
Each package of dryer balls contains 4 softball sized wool balls. Just toss them in your dryer and turn it on. In between laundry days or sessions, leave them in the dryer. I've had mine in the dryer for over 5 years. They last forever. Sometimes they get a little worse for wear and you can certainly replace them but these are economical as well. A box of dryer sheets costs somewhere between 5 and 11 cents a load. When you switch to dryer balls you will have that money to spend on something else, fancy coffee? yarn? some kind of treat? And you have the knowledge that you are making the world a better place. That's work it for sure.