Come to the farm and learn how to prepare your cotton napkins in the Japanese Shibori way. You will dip and dye in the indigo pot for truly unique cloth napkins for your own table or for your very best friend. You will leave with a set of 4 indigo dyed napkins that you made yourself. You will go from a blank canvas to beautiful napkins for your table or for a gift.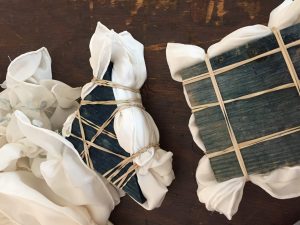 This class starts at 1:30pm and ends 3:30-4pm
Want to book an indigo party? Just gather 2-4 friends and we'll pick a date that works for you. You can make it a birthday party, a retirement party or just a great day at the farm with your friends.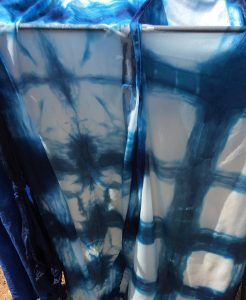 There is a 2 student minimum for this class. If the 2 person minimum is not met, you will receive a refund through Paypal. Cancellations with refund will be accepted to 14 days prior to the class and are non-refundable after that date.
Instructor Bio:
Lisa has been dyeing for over 30 years. She started her dye explorations by dyeing warps for ikat weavings. She taught these techniques all over Los Angeles. After moving to Maryland and buying the farm, she has concentrated on dyeing yarn and spinning fiber for sale. Her expertise in dyeing shows in her colorways and expertise in all systems of dyeing.