Description
In honor of the 2022 Winter Olympics we are hosting a Hat Halfpipe KAL.  Why call it Halfpipe? Well on Ravelry, there is an event called the Ravellenics.  The challenge is to start and make one or more items. And they each have some connections to the real events. So Hats are connected with Halfpipe.  This KAL will start on February 4th and end February 20th.  I will be having 2 zoom sessions for the participants, dates and times to be determined.
You have 3 choices of pattern:  Cabla Hat, Correlation Hat and Rhinebeck Hat.  The kit will include the yarn, a cute pompom and the pattern. The patterns will come to you digitally.
The Cabla Hat is a cabled hat and the kit has a skein of our Livily or Trasna worsted weight yarn.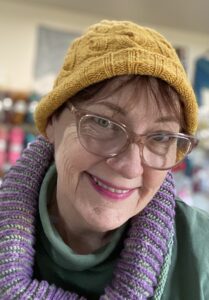 The Correlation hat is also a cabled hat. I love it because it is double sided. And that kit is made with our Synergy.
Finally the Rhinebeck hat is made with 2 different Livily skeins: one that is variegate and the other is semi solid. It is worked in short rows. These kits are one of a kind.