Description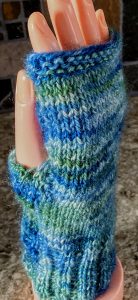 This is a very easy pattern that can be whipped up in no time for a holiday gift during busy times or to make for a quick present any time of year. It is sized for men's and women's sizes.
For this pattern you have 2 choices for knitting. You can make both mitts at the same time by using the inside and outside leader from a cake of yarn. Or you can knit them one at a time.
These mitts are knit from the top or finger edge to the bottom or the cuff.  They are knit flat and then sewn up the edge.
Kitt includes 100 yards hand dyed mohair yarn grown on Flying Goat Farm and pattern for the mitts